Here are my top 10 most innovative/coolest mobile computers. Note: I define mobile computers as anything that is portable or can fit in a luggage bag – and runs on a desktop OS. No iPads or mobile phones here.
10. GPD Win Max (2020) – (last year's spot was the Dell Adamo XPS)
Replacing last year's Dell Adamo XPS at the #10 spot is the GPD Win Max. With a shoutout to the Alienware UFO Concept (Which would probably make it on here if it was in production) – the GPD Win Max is actually in production so thus makes it on this list. It is the mostly powerful UMPC available so far and can play AAA titles on a machine with only an 8″ screen and fits in the palm of your hand. That's just amazing.
9a. Asus G700VO (2016) – (last year's spot was the Dell XPS M2010 and Acer Predator 21X)
I mean just look at it! I think this supersedes even the Acer Predator 21X I put on this spot last year as the laptop that is really pushing the boundaries of what it means to be a laptop. I mean can anybody really use this thing on their lap? It comes with a water cooler that looks like a car engine. Talk about an unwieldy design, although I don't doubt that it had a lot of power underneath its hood.
9b. Acer Helios 700 (2019)
This gaming laptop has a cool sliding keyboard mechanism that exposes the air flow above so that it's able to cool down the laptop more for better gaming performance. And the sliding keyboard also doubles as a wrist rest for more ergonomic placement. Pretty cool!
8. Asus ROG Mothership (2019)
One of the coolest laptops unveiled at this year's CES, the Asus ROG mothership is basically a battery powered all-in-one PC with high end specs. Core i9, 144hz display, RTX 2080, its all there – and the keyboard is detachable so that gamers can use their own keyboard/mouse without the built in one taking up space like in most gaming laptops.
7. Porsche Design Book One (2017)
Yes its similar to the Microsoft SurfaceBook – but it has one key difference which is a 360 degree Yoga hinge. This means the Book One combines the Lenovo Yoga's convertible form factor with the Surface Book's detachable hinge. It's the only computer with this design.
6. Acer Concept D7 Ezel (2020) – (last year's spot was the Acer Aspire R7)
A fitting replacement for the Acer Aspire R7 that I put on this spot last year, this laptop has a similar party trick – the hinge angles forward to give the user better access to the screen, which is very useful for use as an artistic drawing pad – or an Ezel as you might call it!
5. Lenovo X1 Fold (2020) – (last year's spot was the Toshiba Libretto W700 / Acer Iconia 6120)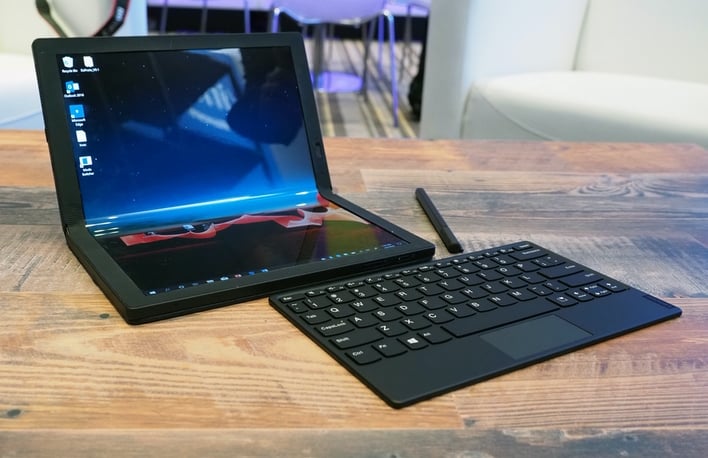 First a shoutout to Microsoft's Surface Neo (we don't know if it will make it to market this year), this "laptop" is my pick for the #5 spot. I think it's an apt replacement for the laptops I had in this spot last year which was the Acer Iconia 6120 and the Toshiba Libretto W700 both of which were dual touch screen laptops. You know what's better than a dual touch screen laptop? A laptop that has a folding display that can become either one or two screens! This is the first such device of its kind and thus makes it onto this list.
4. Sony Vaio UX (2006)
The ultimate UMPC, the Vaio UX is still a marvel of design and engineering. It ran Windows XP (can be upgraded all the way to Windows 10) and can fit in your pocket! It was the first computer to have an SSD and had a fingerprint scanner over a decade before it was commonplace on notebooks. Truly an amazing piece of tech.
3. Razer Edge Pro (2013)
Razer Edge Pro was a gaming tablet that ran a Core i7 with a GTX 640LE and paired it with a console grade gaming controller. This idea was very unique and allowed users to play Windows games on the go in a form factor much smaller than gaming laptops – and way before the Nintendo Switch as well.
2. Asus Zephyrus Duo 15 (2020) – (last year's spot was the Asus Zenbook Pro Duo)
Asus follows up the dual screen Zenbook Pro Duo of last year with an even cooler device that replaces it on the same spot on my list – the Asus Zephyrus Duo 15 is similar to the Pro Duo but the second screen actually tilts up when the laptop is opened and is more geared towards gaming than artistic abilities.
Onkyo DX (2010)
Technically this would belong to Razer's Project Valerie if they ever made that laptop, but since they didn't – this netbook gets it. It has a dual display – one display slides out from under the other – and its also a convertible display on top of that! I have no idea why this design idea was not adopted by other makers but out of all PC makers – Onkyo – an audio equipment maker was the one to come up with this. Surprising.