One of the things I love most about Korean people is how much they care about fashion and how they dress. Their style is IMO much better looking than American or other Asian styles that I've seen so far. It seems almost every Korean girl cares about appearance and how they look. For guys, a lower percentage do, but still many guys do as well. So I want to write about what I've seen, since I care about appearance and I often notice how both guys and girls dress and look like here. Korea is also a very homogeneous country, and also very conformist so the same style of skirt or pants that you see on one person you might see several times a day. With that said lets move on to these different styles. I'll start with guys since there's less to talk about with them.
Men (20s-30s)
————————————————————–
Head / Face / Makeup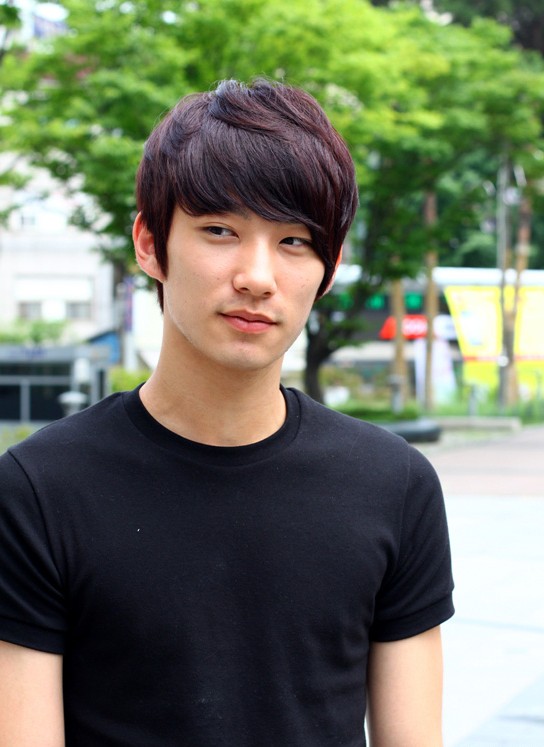 -Most Korean men don't dye their hair (some do, but not as common as Korean girls do), keeping it black.
-They prefer to have the bangs go down over their forehead like the picture above.
-Medium length hair is very common (in contrast to Chinese guys who have very short spiky hair, and Japanese guys who sometimes have longer hair reaching down to their neck).
-Most Korean men don't wear makeup (although some do, its definitely the minority).
-Maybe 50% or so of Korean men did lasik surgery or wear contacts, as Koreans in general do not like wearing glasses compared to other Asians.
-Korean men fully shave their facial hair (in contrast to other Asian men who may keep a stubble or facial hair of some sort).
Top clothing
-Koreans love tight clothing. One of the most common fashion styles for top-wear is to wear a collar shirt, fully buttoned, with either rolled up sleeves or exposing the arms. See above picture for example.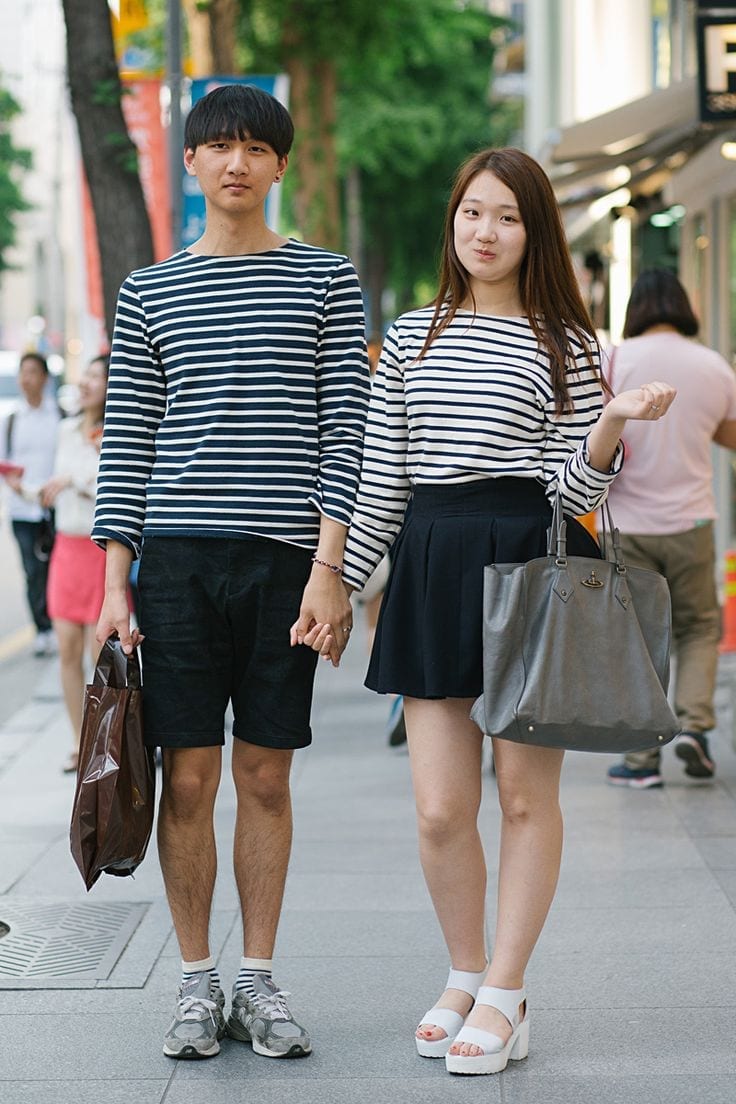 -Young Korean guys and girls, especially couples, love to wear striped shirts, as seen in the picture above. One reason is that they can match it easily to form couple clothing.
-For Older men and fancy occasions, a tight Blazer is a good choice for a fancy date or a good night out.
-Koreans tend not to wear ties outside of work.
These are the three most common styles of fashion for top wear that I've seen on Korean men.
Bottom clothing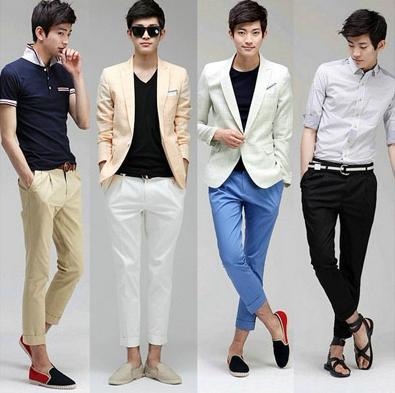 -Skinny Jeans or Tight Khakis. Those are the most common items that I've seen. Keep it tight, keep it simple.
-In the summer, tight cargo shorts are very common like in the striped shirts picture above.
Shoes
-Running shoes (Converse type), Loafers (like the pic above) are very common for everyday occasions.
-For fancy occasions, Oxford type or similar shoes can be worn.
-A lot of Korean guys, and me included, don't wear socks with our shoes for casual occasions.
Accessories
-Usually Korean men do not wear any hats.
-Very few guys do tattoos or piercings.
-As mentioned before maybe half of all Korean guys wear glasses. They prefer to wear oversized frames, with the shape more roundish than square (Westerners often prefer wearing square frames to round frames).
-Korean guys like to wear watches. Invest in a good classy looking mechanical watch.
Women (20s-30s)
————————————————————–
This section is going be longer because women care about their appearance and fashion more, so I can't say every kind of fashion but I will try to list the most common styles I've seen.
Head / Face / Makeup
-50% of Korean women dye their hair, usually to brown or reddish-brown tint.
-They don't like to leave their hair up. Most Korean girls let their hair down.
-Hair is medium length (down to shoulders) or longer (down past the shoulders). There are very few girls who have short hair who are not in high school.
-Perm/Bleach is also fairly common.
-Almost every Korean girl wears makeup (in contrast to Chinese girls who don't wear makeup). The typical Korean girl puts on lots of eyeliner, lots of foundation or BB Cream to make their skin look paler, slight blush on their cheeks and red lipstick, like in the picture above. They also wear fake eyelashes sometimes.
-Makeup is the single most important thing that changes a girls appearance. Most Korean girls who do plastic surgery do it to get double eyelids instead of single eyelids. But that doesn't make as noticeable a difference as makeup does. Makeup literally makes their eyes look twice as big as before. The example above shows typical lots of eyeliner to make the eye look bigger, as well as lots of foundation and BB cream to make the skin look paler and cover up imperfections.
-Note that some girls even put makeup on other parts of their body like their legs to hide imperfections.
-Korean girls shave every part of their body, and this needs to be mentioned because some Asians like Chinese girls do NOT shave every part of their body. Yes this includes the upper lip area as well, and a lot of girls prefer to get things lasered instead, so they don't have to deal with shaving.
-Most Korean girls paint their fingernails and/or toenails. Especially if they are wearing toe-open heels or shoes.
-Most Korean girls get braces for their teeth. (I have to mention this to contrast it to Japanese girls who are known for having crooked teeth).
Top clothing
-Young girls like to wear the striped shirt (as shown above)
-I cannot list all the types of blouses a Korean girl wears, but the above is an example of the type of blouse an older Korean girl would wear. They are usually very feminine and sometimes transparent to show off their arms or chest. The shoulderless shirt is another type of clothing older women wear a lot as well.
-This technically classifies as both top and bottom wear but, Korean girls love to wear dresses, and while I cannot list every single type of dress they wear, I've given three examples above of one piece dresses. They like to wear shoulderless types, semi-transparent types, frilly or flare bottoms, straight bottoms, etc.
-Because Korean girls think showing top or their chest is considered more sexy than showing bottom, they often cover the top of their body with a long coat or or jacket while wearing a one piece or skirt underneath.
Bottom clothing
-As I said, Korean girls love to show wear dresses and generally like to show their legs since its (for some reason) not considered sexy at all to show legs in Korea. Thus Korean girls love to wear short skirts and short shorts as well in addition to dresses.
-Once again I'm not going to list all the different types of skirts that I've seen, there's too many, but there's some common ones above. Young girls tend to wear flare skirts (or tennis skirt), while older girls wear pencil skirts or A line skirts, sometimes with slits cut in the back.
-Though not as common as the other types of dresses, sometimes Korean girls wear these transparent types of dresses with a short skirt of shorts underneath.
-Since Korean girls love to wear anything that shows their legs off, the shortest pants imaginable are called "hot pants" and often worn in the summer or going clubbing, though some girls wear them day to day. Young girls sometimes wear short exercise shorts or jean shorts. No they don't exercise in them, they just wear it because it shows a lot of leg.
-Skinny jeans. Though they are in the minority compared to the dresses/skirts.
-While in the summer Korean girls bare their legs, in the colder months they tend to wear stockings in lieu of pants (again because they like to show their legs), either nude/transparent pantyhose or black stockings. I don't have a picture of transparent pantyhose because, well, they just look like skin from a distance since they "skin colored".
Shoes
-Young Korean girls prefer to wear either high heeled sandals, platform shoes or running shoes (Converse or Vans is popular as several photos above attest)
-Older Korean girls wear platform shoes, high heeled shoes or stilettos (sometimes very high)
Accessories
-No glasses. 90% of Korean girls don't wear glasses (in contrast to other Asians who often do). They do lasik surgery or wear contacts instead.
-Very few girls do tattoos or non ear piercings.
-Earrings are common, but not on every girl. Some wear them, some don't. I've seen about 50/50 on this.
-Necklaces also common, and also a 50/50.
-Watches also common (in contrast to Westerners who don't commonly wear watches anymore). I've seen more Korean girls wear watches than not, though not as commonly as Korean men do.
-A peculiar feature of Korean fashion is the ankle bracelet. Because so many girls show their legs in Korea, they like to "spice up" their look by wearing these on their leg.
So yeah… that's about it for now. Since Koreans care so much about appearance, I felt compelled to make this post about Korean fashion 🙂 The overall theme of Korean fashion seems to be "Neat and Clean" style and I think it looks way better than fashion in other parts of the world IMO.