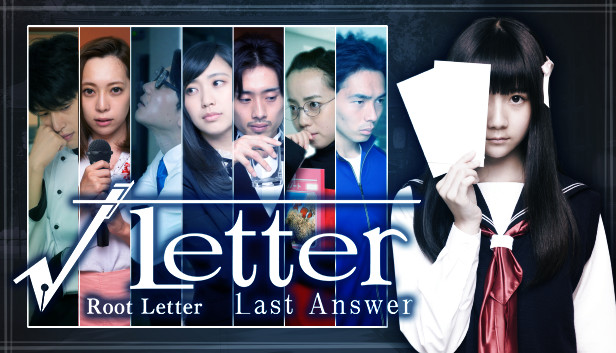 Platform: Nintendo Switch
Developer: 5pb
Release: Sept 3, 2019 (for Switch)
Price: $30 USD
Root Letter: Last Answer is an enhanced version of Root Letter which is an investigative visual novel originally released in 2016. The enhancement is mainly replacing the original anime characters with real actors and actresses as stand ins. 
Plot: You are searching for your long lost pen-pal friend, Aya Fumino, who mysteriously disappeared 15 years ago. You read a letter that she wrote, where she said she killed someone and must atone for her sins. You go to visit her hometown of Matsue to investigate what happened to her, and question her classmates about her. 
Gameplay: Besides reading text like other visual novels, Root Letter has investigative gameplay elements. That means you can go to different locations in Matsue, use inventory items to help investigate, interrogate people using a technique called MAX mode where you have to time your key press in order to get the best information out of the character. So there's significantly more gameplay at work here compared to most visual novels.
Characters: 
Fumino Aya – A senior at high school who loves history and mythology. She's also your pen pal from 15 years ago. Back then, she came across as kind and compassionate – but as you investigate her disappearance, you begin to question everything you thought you knew about her.

Ishihara Yukari – The daughter of an advertising exec and a waitress at a diner – Yukari grew up to be curator at the Shimane Art Museum. Always in the shadow of her older sister who had the privilege of going to a prestigious university, she developed something of an inferiority complex.
Omori Jun – Dedicated to the art of making exquisite pastries and sweets, Omori owns one of the best patisseries in Shimane. He has a kind and gentle demeanour, but does this hide a dark secret? 
Tanaka Kousuke – Mild mannered and suffering from lack of confidence, Tanaka has a mild speech impediment. As a kid he was always the smartest boy in school and was destined for great things. Then all of a sudden his grades started to crash. What was it that happened 15 years ago that ruined his once-perfect academic record?
Watanabe Masaya – One minute he was high school's star athlete dreaming of becoming a professional baseball player. The next minute he's injured and consigned to the side-lines. The tragedy was too much to take and so he fell in with the wrong crowd and was destined for a life of petty crime. Now, as an adult, he's turned himself around, teaching PE at the local school. 
Murakami Misaki – A television presenter for a local channel, Misaki's family runs a sake brewery. She is sometimes a little blunt and rude and craves the life of a serious news reporter. She believes that she must be impartial and report the truth – but isn't that just a little hypocritical given the events of the past?
Nozu Shota – Shota was a spoilt kid who had a life of wealth and privilege. When his father's company brought shame on itself or being involved in fraud, Shota went from having it all to being on the brink of poverty. He now works as a bartender, which is hardly where thought his future would be. 
Sasaki Riko – Riko is just an average housewife married to an average guy – which is a long way from where she wanted to be. Pretty and talented, she always wanted to be an actress, so that she could become rich and famous and look after her parents
Graphics: Root Letter: Last Answer, compared to the original Root Letter, uses photos of actors/actresses as stand ins for the original anime visuals, which adds more realism to the game.
Music: The music is nice and ambient, not too distracting, which is suitable for an investigate visual novel like this.
Conclusion: 6/10. People who are interested in investigate thrillers might like it, but to me it's a little bit bland, the story doesn't pull me in that much compared to other investigate thrillers, and the gameplay elements are a bit shallow. Compared to something like the Danganronpa series or even the Famicom Detective Club remakes, Root Letter / Last Answer doesn't interest me as much. The protagonist has a fairly bland personality and each of Aya's classmates are essentially based on stereotypes. For the 'murder mystery in a small japanese town' thing, World End Syndrome did it better and was more interesting for me. Furthermore I don't really think the real life visuals are an enhancement at all. It adds realism to the game sure, but personally I didn't have an issue with the original's anime characters and I don't find the photos to be an upgrade. So it's just a very average visual novel overall for me. Not bad, not great.